Affection toward Guilin--Works Donated by Li Peigeng, Song Kejun and Ye Lyumei
Date:2017.05.17
Times:7227
Preface
Clear Li River, eternal love.
For thousands of years, grotesque and marvelous Guilin landscape has been a lure for numerous scholars and painters.
Li Peigeng, Song Kejun and Ye Lyumei, had been absorbed to landscape painting for years. They had been exploring different forms of paintings to illustrate Guilin landscape, and had formed their own distinctive styles: Mr. Li devoted himself to oil painting, Mr. Ye specialized in traditional Chinese painting and Mr. Song was adept at engraving and traditional Chinese painting. Even though their works vary from each other in styles and techniques, they all convey their affection for Guilin. It was just out of such love that the three painters and their families donated over 300 works successively to their hometown which were collected by Guilin Museum for good, adding distinctive artistic treasures to Guilin.
Special exhibition rooms have been set by Guilin Museum to demonstrate the wonderful artistic achievements of Li Peigeng, Ye Lyumei, Song Kejun, and to advocate their lofty qualities of selfless devotion and indifference to fame and fortune.
GALLERY OF LI PEIGENG
Born in Guilin, Li Peigeng (1933 – 2012 A.D.), also known as Li Du, specialized in oil painting and sketching. Combining the techniques of western oil painting and Chinese traditional painting, Mr. Li created a unique painting approach to present the beauty of Guilin, which laid a foundation for Guilin landscape oil painting. He also made positive exploration of the domestication of oil painting.
Mr. Li Peigeng had devoted his life into depicting Guilin landscape through oil painting. Based on the tradition of realistic western oil painting, he kept innovation and development through arts creation, and persisted in "making the west serve China". He ingeniously blended the beauty of artistic conception of Chinese landscape paintings in his works, integrated his fertile imagination with his keen feeling of nature, connected the profound philosophy with eastern emotion, all of which help presenting the mystic beauty of Guilin. Li Peigeng was also adept at sketching. His works boast accurate ratio, plentiful layers, great stereoscopic effect, vivid illustration and delicate emotions.
Li Peigeng was indifferent to fame and fortune. Throughout his life, he never sold any of his works. Instead, Mr. Li donated around one hundred of his works to Guilin Museum successively, generously giving out his arts production to his hometown.
GALLERY OF YE LYUMEI
Ye Lyumei (1919 – 1984 A.D.) was born in Baishahu Village, Guangzhou. He took Henian, Lyumei as his courtesy name, Yansheng, Wanlin as his pen name, and Qian Feng Wan He Lou Zhu (meaning the owner of a series of high and low, overlapping mountains) as his literary name. He specialized in painting. Devoting his whole life into the creation and exploration of Guilin landscape painting, he strove to initiate a new pattern of Guilin landscape painting by applying the classic techniques and the core spirit of traditional Chinese painting, and was thus called "the first painter who devoted his life into Guilin landscape painting with pioneering spirit in the circle".
During the War of Resistance against Japanese Aggression, Ye Lyumei traveled to Guilin and was deeply attracted by the marvelous mountains, stones and shinning water. After the War, he settled down in Guilin and devoted his life into Guilin landscape painting. His works embody the charm of Guilin landscape with humanistic spirit and demonstrate the natural glamour and connotation of Guilin landscape. He established the Research Institute of Guilin Landscape Painting, found the Qingli Art Academy and devoted himself to developing the creation and teaching about Guilin landscape painting. Under his efforts, the school of Guilin landscape painting was innovated.
Ye Lyumei lived in Guilin for over 40 years and regarded Guilin as his hometown. Guilin nurtured his artistic life and in turn, he returned all his art talents to Guilin. After his decease, his son Ye Xiangci followed his will and donated his another 100 works to Guilin Museum for eternal collection.
GALLERY OF SONG KEJUN
Born in Guilin, Song Kejun (1922–2010 A.D.) specialized in woodcutting and painting. One would see the charm of painting in his engraving and feel the meticulousness of woodcutting in his traditional painting.
Song Kejun had made great achievements in engraving. He insisted on realist and romantic creation methods, and was renowned for dexterous cut. Whether the arrangement of points, lines or surfaces, or the handling of color, printing, techniques of chromatic prints, his works always show oriental charm. He also made positive exploration on traditional Chinese painting creation and successfully applied the techniques of engraving into traditional Chinese painting, thus achieving new artistic effects. Particularly, his flowers-and-birds painting features simple image, profound connotation, graceful color and forceful brush, creating elegant, natural, concise, and profound artistic conception.
Throughout his life, he had always been concerned about his hometown and donated hundreds of works to Guilin Museum. After his decease, his wife Mrs. Fan Zhirui followed his will and donated another 70 works to Guilin Museum for eternal collection.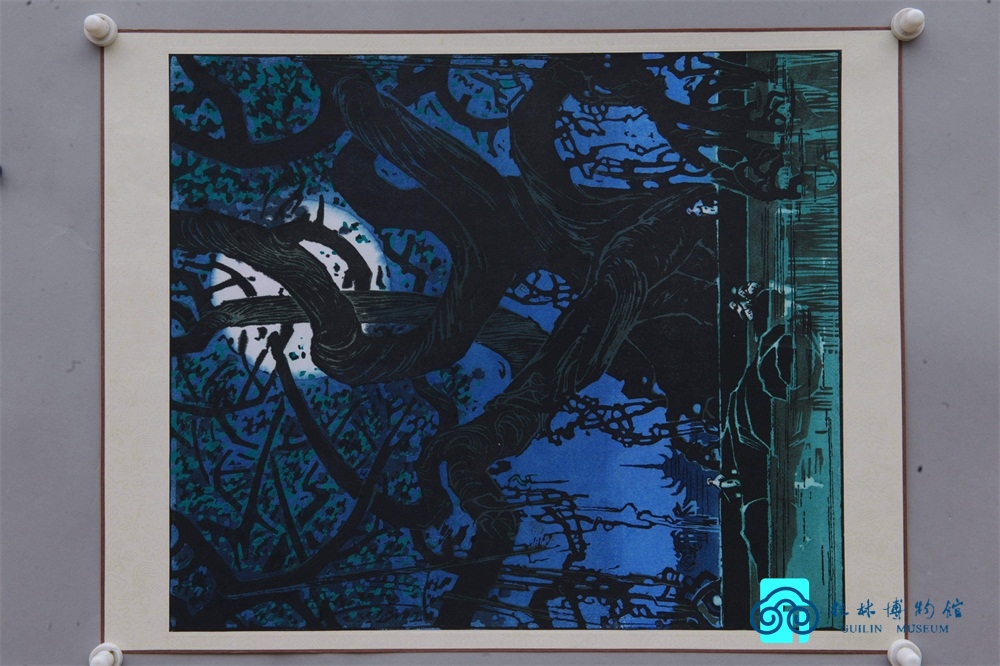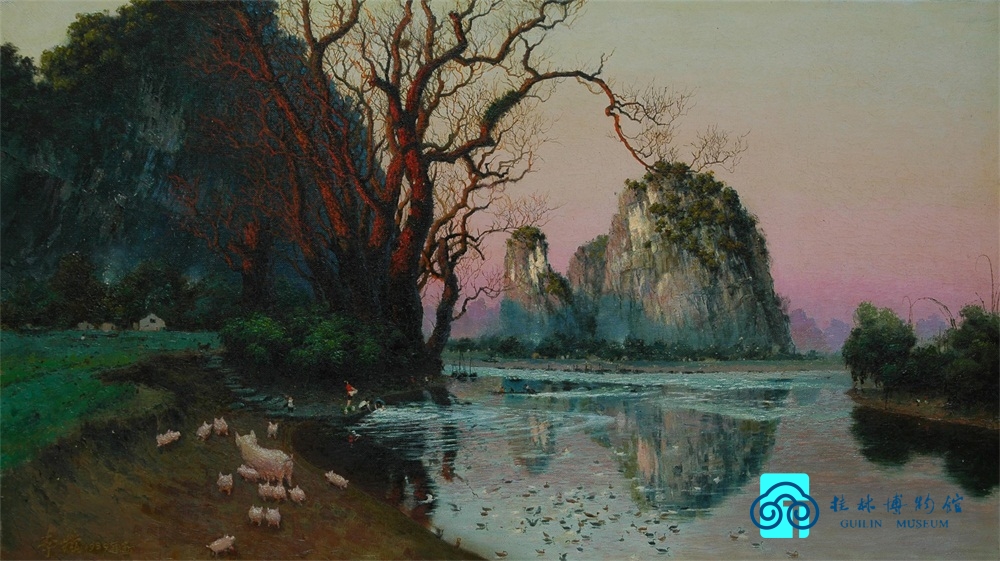 Li Peigeng,Dawn
Oil Painting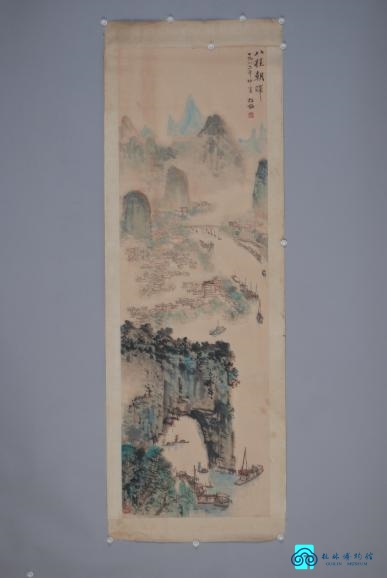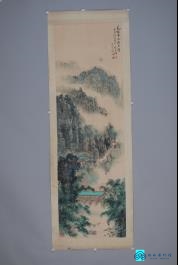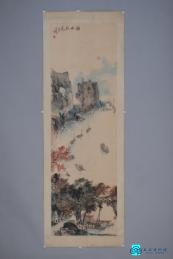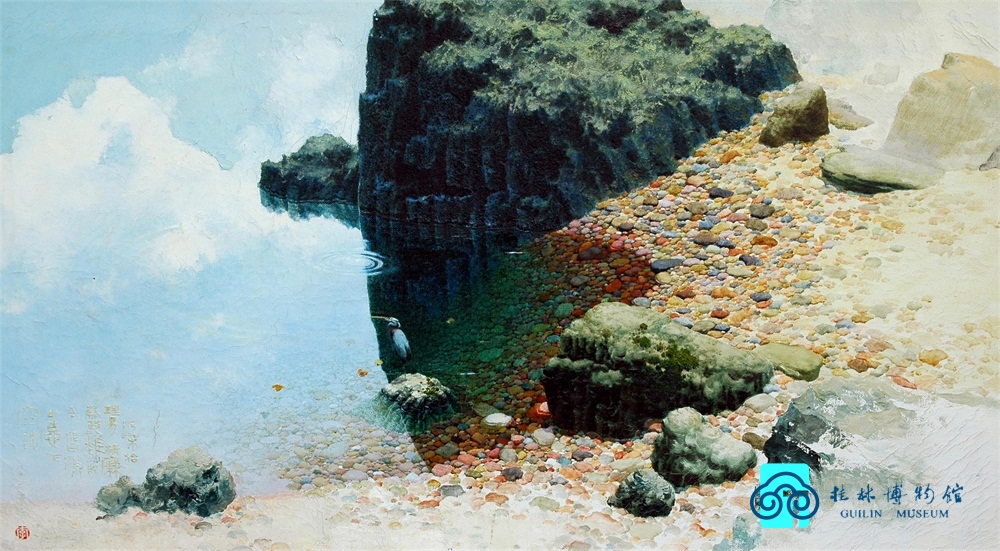 Li Peigeng,Expectation
Oil Painting